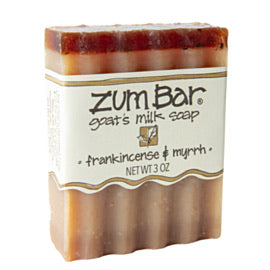 Frankincense & Myrrh
Zum Bar Soaps are made from whiffable essential oil blends infused into olive, coconut, and castor oils, and goat's milk. Handcrafted with ingredients you can say, spell, and love to smell. A favorite ingredient, goat's milk, is a naturally homogenized, silky-soft moisturizer. It's full of the good fats that help your skin's pH levels lock in extra hydration. Boost your mood and try this Frankincense & Myrrh Zum Bar Goat's Milk Soap.

*Zum Bars contain natural mineral pigments that may stain when rubbed directly on fabrics, washcloths, or clothing.
*Frankincense products contain a trace of phthalate-free, paraben free fragrance oil.
Mojo Makers:
Natural plant oils like o

live, coconut, and castor oils provide next-level hydration sourced by nature.

Goat's Milk provides mega-moisturization and soothes skin.
Essential oils boost your mood morning, noon, and night.
Scent Profile: Frankincense brings a woodsy scent, while Myrrh adds a darkly fruity scent and a rich sweetness
---
We Also Recommend