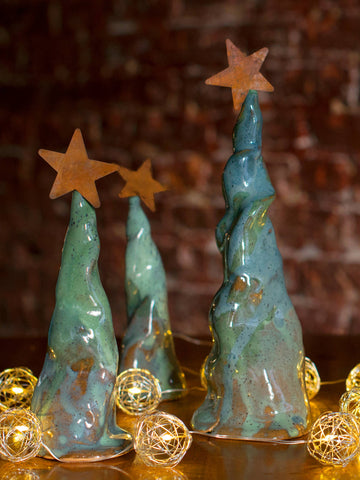 Holiday Trees - X-SMALL
Whimsical holiday trees; handbuilt. Ceramic tree // Metal "star" is on a magnet and is removable for easy shipping + customer transport. Look fantastic as a set ((aka FOREST of trees)) with fairy lights twinkling among them on a mantle X Small Measure 3-4" Small Measure 4-5" Medium Measure 6-7" Tall Measure 8-10"
Handcrafted in Pottsville Pennsylvania.
Words from this woman owned business below
Unconventional pottery for unconventional people. Mud & Maker blends multiple techniques and mediums into handcrafted and original one of kind pieces of pottery. We live and work in rural Pennsylvania. Inspired by our natural surroundings, and the people that we meet - many of our pieces include elements of playful design, blending a colorful rustic aesthetic with just the right amount of snarky wit. We believe each day is unique - just like every piece of pottery we make.
---
We Also Recommend